Pink is NOT your favourite colour.
You want to do things your own way - you aren't a slave to tradition. You appreciate the light, airy pastel colours of modern wedding photography but you prefer things to be more raw, real and authentic. You value people and places over stuff. You don't mind getting your dress dirty and your shoes muddy to get an epic photograph you'll remember forever. You don't like cheesy, staged, fake-smile formal photographs. You'd rather spend more time laughing with your friends and family than dealing with your photographer.
You know that the truth is messy and complicated and doesn't fit into neat little boxes. Neither do you.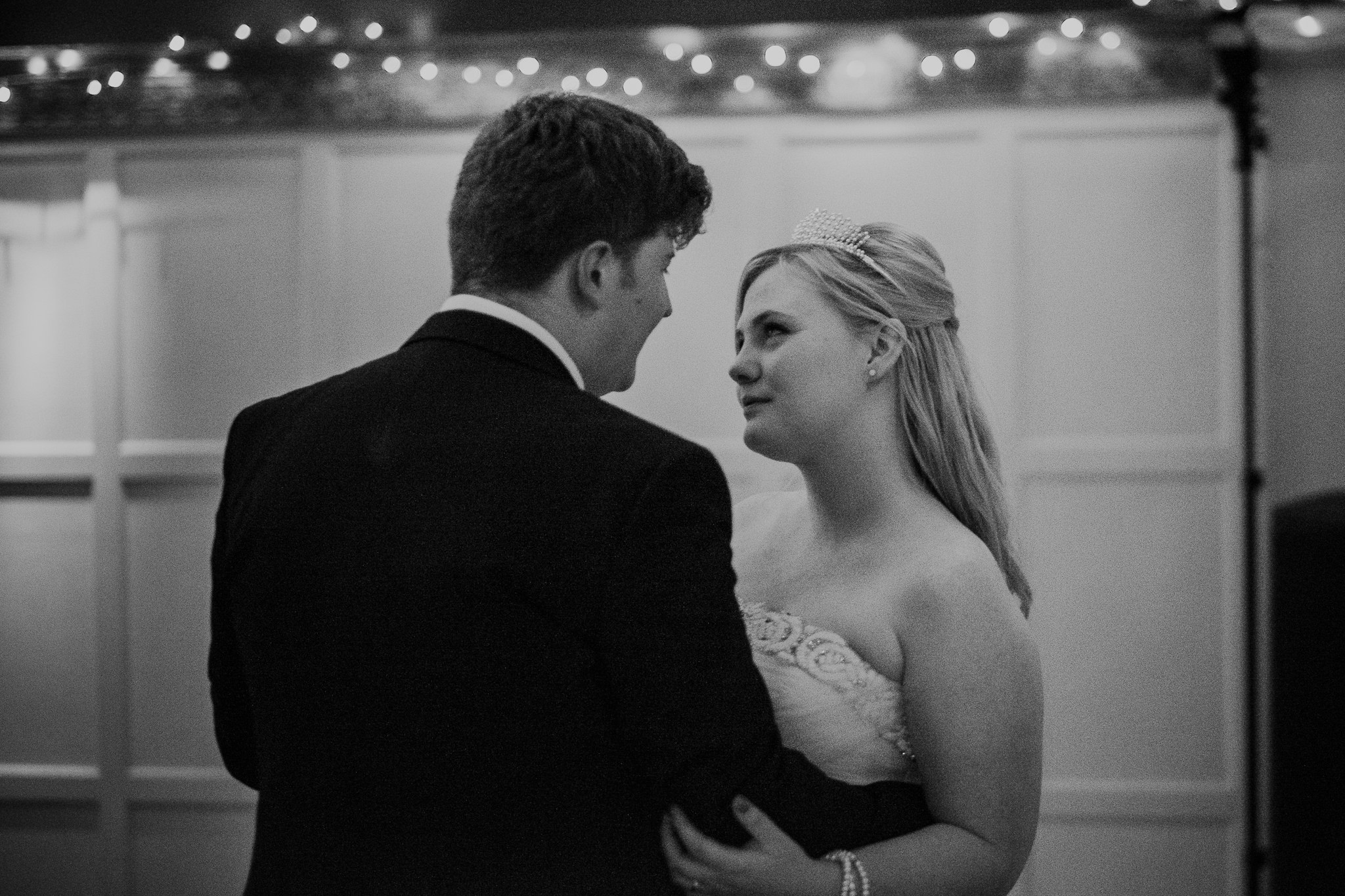 You used to think that the gut-wrenching, all consuming love that bands sung about didn't really exist - until you met your partner.
Choosing a wedding photographer is not about ticking a box off on your to do list. You know that you will be spending 10+ hours of your wedding day alongside your photographer and you need to be able to get along with them. You also want to trust them to document your crazy day and reflect who you really are as a couple, not just work their way through a shotlist.
You aren't planning a 'off the shelf' wedding and you don't want a wedding photographer who treats you as an identikit couple.
Hey, I'm Barry. That's me in the photo above, freezing my butt off in the Lake District in January.
When I'm not hiking up the fells on a pre-wedding engagement shoot, or photographing a teary groom seeing his bride for the first time on their wedding day, you can find me editing photos in the office of my bungalow in Newcastle. My 18 month old son George will be on one knee and my 4 year old daughter will running around my feet asking me to 'talk Woody and Buzz.'
I'll be trying, and failing, to multi-task as well as my wife Alicia who will be dealing with a work issue over the phone, putting on a load of washing and booking in her next tattoo session online while listening to the Distillers.
We both love music and have been to Leeds music festival countless times over the years.
When I met Alicia I realised that my life could be extraordinary and that I could pursue my dreams. I became a husband, a father and quit my job to become a full time wedding photographer.
Wedding photography allows me to scratch my creative itch like nothing else. There's the emotional ups and downs of the day, there's the adrenaline buzz of capturing fleeting moments that can never be repeated, there's the travel and meeting new people. I love mixing adventurous, climb-over-a-fence-and-risk-the-wrath-of-the-farmer-to-get-that-epic-sunset-shot with 100% pure documentary photographs of the father giving his daughter away.
You could say that I love photographing moments AND mountains.
I love craft beer not crap beer. David Lynch is my favourite film director. Mad Men is my favourite TV series.
I love Newcastle United. I hate Newcastle United.
Dream weddings
Photography is a vocation not a job. I became a photographer so that I could embrace new experiences and do fun, interesting stuff.
So I came up with a list of dream weddings. If your wedding fits a wedding on my list, or you're doing something truly extraordinary, make sure you tell me about it because I'll apply a generous discount on my normal fee. Once that particular wedding is booked, I'll take it off the list!
Lindisfarne Castle in Northumberland
Hotel du Vin in Newcastle (that's where I got married!)
A same sex marriage or civil partnership // UPDATE // Photographed Rachel & Lucy's wedding in July 2017
A lighthouse
A forest wedding
HMS Trincomalee - a warship berthed in Hartlepool
A wedding in the sea // UPDATE // Photographed Ellie & James' wedding on the Northumberland coast in June 2016
A wedding involving a waterfall
Tyneside Cinema in Newcastle (The best independent cinema in the country - I used to work there!)
An outdoor humanist ceremony // UPDATE // Photographed Yoko & Stuart's wedding in County Durham September 2015
A heavily tattooed bride
A farm wedding // UPDATE // Photographed Katy & Tom's wedding at Dale Farm, Yorkshire in September 2016
An elopement in the Scottish Highlands
A Mariachi band
A New Year's Eve party // UPDATE // Photographed Alex & Sam's wedding at le Petit Chateau New Years Eve 2016
A destination wedding (outside the UK)
A ruined or abandoned building
We asked Barry to take photos of our wedding. He visited our house, talked through with us everything he could do and made things very clear and easy. On the day Barry was fantastic! He was incredibly well organised and professional. He was a lovely friendly presence and became like a friend taking photographs. He made everyone feel comfortable and relaxed. He handled every aspect of the day with patience, humour and absolute professionalism.
We are absolutely delighted with the photographs which he took on the day. He captured the spirit of the day perfectly. We could not have hoped for anything better. He really was absolutely fantastic.
Thanks Barry!
Boom! That's me. Like the cut of my jib? Get in touch and let's get talking.